Looking for ways to grow your store and increase your revenue? You may want to consider expanding to new, global markets.
International expansion can be a little tricky, but WooCommerce provides all the tools and knowledge you need to be successful. Let's take a look at a few tips to help make the process as seamless as possible.
Why go international
Demand for online shopping is growing across the world. There are 1.92 billion shoppers and less than 12% of them are in the United States.
Don't limit yourself to a fraction of potential customers. Once you have the right processes in place, shipping internationally can be as seamless as your current domestic efforts. And with plenty of opportunity on the horizon, your competitors will stake their claim before you know it.
Beyond new revenue opportunities, going global can make your company more stable. On average, businesses that export see higher average order values and are 17% more profitable than their non-exporting counterparts.
Exporting isn't just for big stores, either. There are nearly 300,000 U.S. companies that export goods — 97% of those are small or medium-sized.
If you're concerned about language barriers, there's no need to be. English is spoken by more than half of the population in over 45 countries.
How to prepare your store for international expansion
Payments
Offering multiple currencies is a great way to expand your customer base. Start with a payment gateway that accepts international payments. If you're in Europe, for example, Viva Wallet will automatically localize language, currency, and payment methods based on the country the customer is in. See a full list of WooCommerce-ready payment gateways.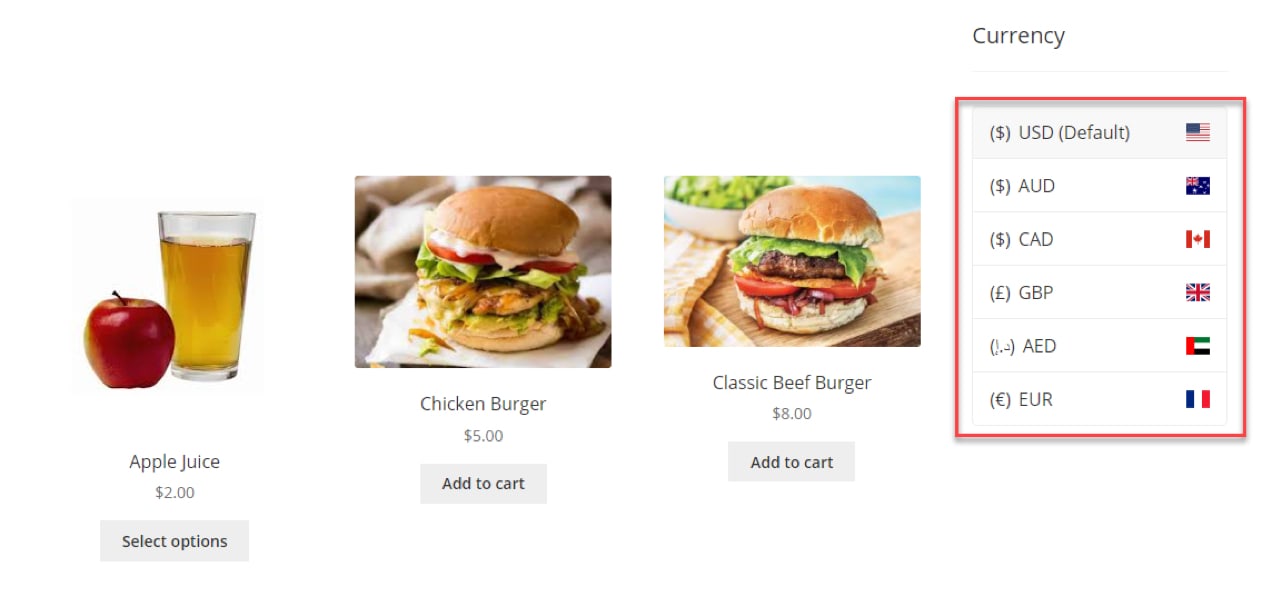 Then, use a tool like Currency Switcher for WooCommerce to allow shoppers to view prices in their own currency. Consider adding it to your Checkout and Cart pages, as well as the sidebar of your Shop page.
Languages
If you decide to sell to non-English speaking countries, allow your site visitors to read your content in their own language. Not only does this reduce confusion, it also shows that you value them and their business.
Plugins like WPML make it easy to offer multiple language options and many of them provide translation services as well. Invest in ensuring your content is translated accurately — the last thing you want is to accidentally say the wrong thing.
You may also want to offer customer service in different languages and time zones to cater specifically to each location.
Taxes
Taxes can seem overwhelming. After all, each country you serve has their own rules and regulations! But it's also important that your tax setup is accurate.
The easiest way to do this is with a tool like WooCommerce Tax. It completely automates the process and calculates the exact tax amount you should charge based on city, country, or state. And, right now, it's available in 30 countries around the world.
Site speed and responsive design
Remember to focus on your user experience and always optimize your website for multiple devices to make sure you're attracting mobile conversions. Popular devices in other countries may be different from what you're used to, so do your research.
To ensure your website loads quickly from every location, consider setting up a CDN (content delivery network.) A CDN is a network of servers distributed around the world. They take the strain off of your host by downloading assets — images, videos, and CSS — from your website and serving them through their own network.
This results in high availability and faster load times. For example, if your web server is in Los Angeles and a user visits from Paris, a CDN would serve your site from the closest server (which may even be in Paris) rather than all the way from Los Angeles. This means that everyone can shop your store quickly no matter where they are around the globe.
We recommend Jetpack's content delivery network for its easy, hassle-free setup.
Shipping
Customers may be hesitant to place an order if they know it's coming from another country, thinking it will take a long time to arrive. Alleviate concerns by outlining your international shipping procedures. Provide estimated fulfillment times and make it easy for them to track their order after it's placed.
And thanks to the standards set by retail chains and global distributors like Amazon, fast shipping isn't a bonus, it's expected. Consumers usually gravitate toward retailers that offer priority shipping, preferably within one-to-three business days. Although price may be a better selling point compared to speed, a lot of them won't mind paying a little extra for faster shipping. So don't cut corners on delivery speed and offer options to those willing to spend more for quicker service.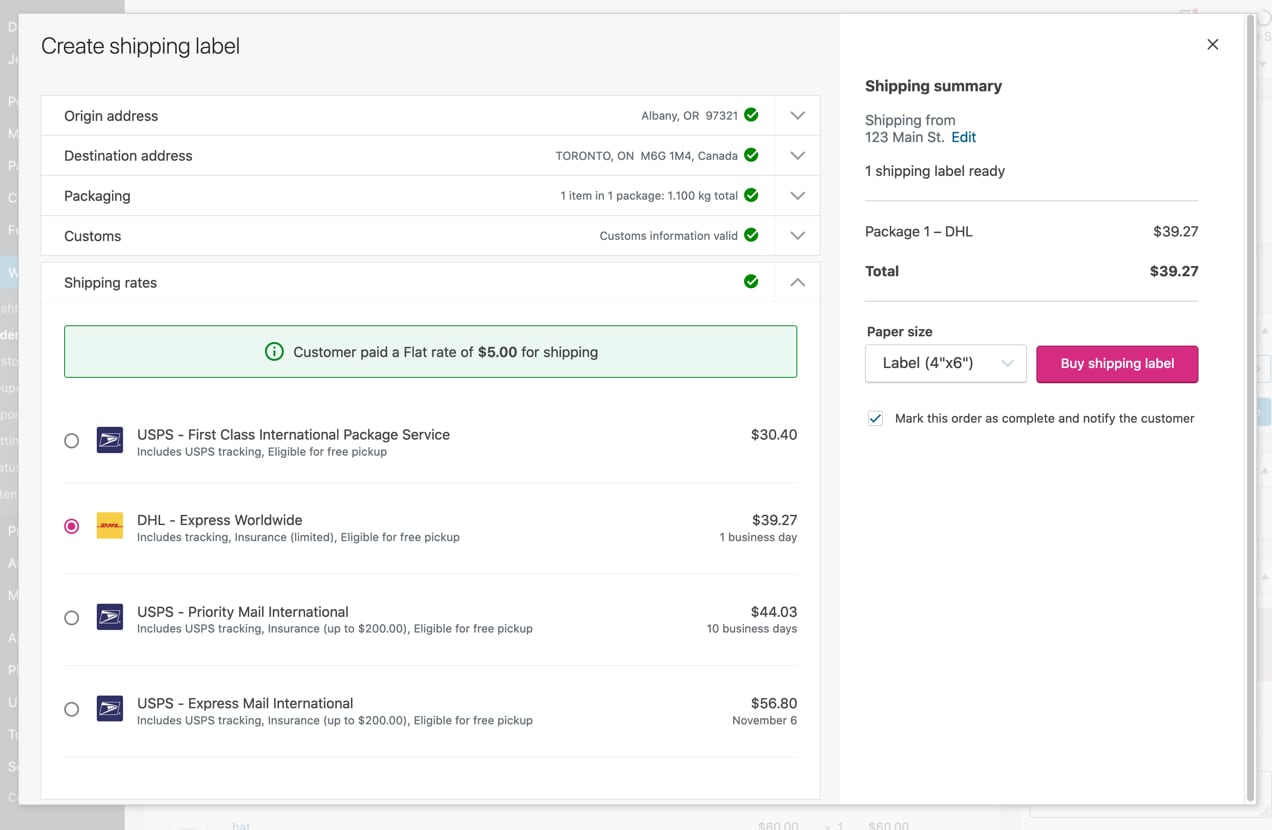 WooCommerce offers a variety of extensions to facilitate international shipping, including WooCommerce Shipping, which allows you to print discounted USPS and DHL labels right from the WordPress dashboard. These tools ease customer worries by allowing you to offer multiple shipping speeds and tracking information. See all the carriers we integrate with.
Content
Even if your site is available in a variety of languages and currencies, you may still want to customize content specifically for each region you serve. Consider creating landing pages, blog posts, and FAQs that answer questions and provide information targeted to certain countries or areas.
Perhaps your products can be used differently in cold climates and hot climates. Maybe you often get the same question about shipping from customers in Asia. Or maybe you want to use more direct marketing techniques in one country, and more subtle ones in another.
Not only does this provide helpful information, it also helps you connect with your customers, and is a big plus for search engine optimization.